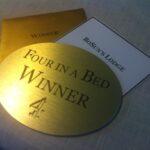 BoSun's Lodge, the home of a Bed and Breakfast with style.
A winner of Channel 4's
"Four in a bed".
Welcome to our charming Bed and Breakfast located on a serene private road lined with lush tall trees and the soothing melodies of chirping birds, setting the perfect ambience for a tranquil and comfortable stay.
Indulge in pure luxury in your beautifully furnished room, designed to ensure your ultimate comfort and relaxation. You might find it hard to leave the room once you've settled in. Room rates start from £110 per night, inclusive of a sumptuous breakfast to start your day.
Our location offers excellent access to Cowes and the vibrant Island life. You can easily cross over to West Cowes on the Floating Bridge, where sailors from all over the world gather to participate in World Class Sailing Events.
Experience the charming ambience of the nearby marinas, Yacht Clubs, restaurants, pubs and quaint shops during your stay at our Bed and Breakfast. BoSun's Lodge is the perfect base for exploring the island's numerous attractions, including the scenic coastline, charming towns and picturesque trails. Additionally, you can walk to Osborne House, the iconic vacation residence of the Royal household of Queen Victoria and Prince Albert.
Our Bed and Breakfast is situated near the East Cowes Esplanade, which overlooks the Solent and is in close proximity to the Classic Boat Museum. Additionally, there are convenient bus connections and cycle routes nearby for easy exploration of the area.
Our ground floor rooms are designed to cater to the needs of individuals with reduced mobility, providing great accessibility and comfort.
We take pride in our commitment to diversity and warmly welcome guests from all backgrounds, including the LGBT community.
Indulge in a little extra luxury during your stay with us at our bed and breakfast. We are pleased to offer the following complimentary amenities:
• Discounted Red Funnel ferry bookings for a smooth and hassle-free journey
• Ample free parking, so you can explore the nearby attractions without any worry
• Complimentary Wi-Fi throughout the property to keep you connected
• Private courtyards for both of our rooms, providing a secluded and peaceful space to unwind
We are dedicated to making your stay as comfortable as possible, so please do not hesitate to ask us any questions, request additional services or discuss your individual needs. We are always here to assist you.