Rooms
Welcome to our quaint and welcoming Bed and Breakfast. Our boutique establishment features two recently built rooms for your comfortable stay.
First, we have the Malone room, which boasts a luxurious super king-sized bed, an en-suite bathroom, and a private patio, all conveniently located on the ground floor.
Secondly, the Mylett room features a cosy king-sized bed, an en-suite bathroom, and a lovely decked patio, also located on the ground floor.
We pride ourselves on our friendly service and attention to detail, ensuring your stay with us is a comfortable and memorable experience. Book your stay with us today and enjoy a relaxing getaway on the beautiful Isle of Wight.
Our Amenities
Enjoy complimentary tea and coffee-making facilities in your room
Stay entertained with a flat-screen TV provided in each room
Wake up on time with an alarm clock available in your room
Get ready for your day with a hairdryer and iron provided in each room
Rest assured that ample free car parking is available for all of our guests
Our Malone and Mylett rooms are conveniently located on the ground floor, providing exceptional accessibility for guests with reduced mobility. Each room boasts a unique nautical theme and features a spacious en-suite bathroom for your comfort and convenience.
---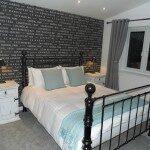 Mylett room Our cosy and comfortable space features an en-suite bathroom with a spacious shower, WC, and basin. Step outside onto your private decked area and enjoy the serene views of our main garden, which faces south and offers seclusion from the outside world. Come stay with us and experience the perfect blend of comfort and tranquillity.
To book: Click Here
---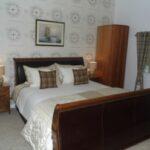 Malone room is a spacious accommodation featuring a contemporary en-suite bathroom with a raised bathtub and a separate wet room shower, a WC, and a wash basin. The room offers direct access from the entrance and dining hall and boasts a private courtyard garden, perfect for a peaceful escape. Book your stay now and enjoy the comfort and privacy of the Malone Room.
To book: Click Here
---
Unfortunately, we do not offer any facilities or specific spaces for children or pets to play.
---
Secluded garden