We take pride in offering a delightful English breakfast experience, available between 8:00 and 9:00 every morning. If you have any specific scheduling requirements, such as early business meetings or ferry connections, we can accommodate alternative breakfast times.
At our establishment, we prioritise sourcing from local suppliers and using local ingredients whenever possible. Our commitment to freshness is evident in the fact that we prepare all of our food to order.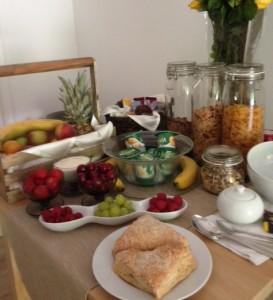 BoSun's English Breakfast
Start your day off right with our delicious breakfast options. We offer a variety of fruit juices including orange, apple, and grapefruit. Our yoghurt selection is sure to satisfy, with various flavours available.
Indulge in our selection of cereals or go for a heartier option with our grilled bacon and sausage, fried, scrambled, or poached eggs, beans, tomatoes, and mushrooms. Toasted white or brown bread is available with a variety of jams and preserves to choose from.
Get your daily dose of vitamins with our selection of fresh fruit from our fruit bowl. For a quick grab-and-go option, we have muffins and a selection of breakfast bars.
For a more indulgent treat, try our pastries of the day. And to wash it all down, we have a selection of teas, cafeteria, hot chocolate, and Bovril. Start your morning off right with our delicious breakfast options!
We strive to accommodate your specific dietary needs to the best of our ability, provided that we receive sufficient advance notice.